Access IT Solutions Blog
Access IT Solutions has been serving the Florida area since 2008, providing IT Support such as technical helpdesk support, computer support and consulting to small and medium-sized businesses.
South Florida Businesses; Are You Confident in Your IT?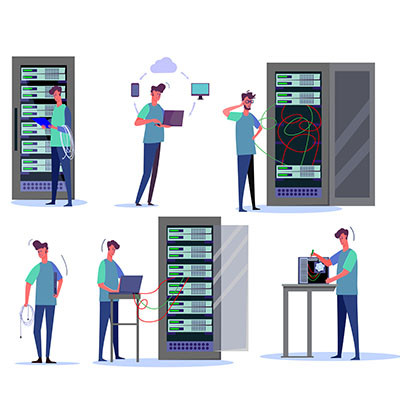 It should come as no surprise that modern businesses rely quite a bit on their information technology. Taking this point a step further, however, modern businesses therefore need to know—know, with one hundred percent confidence—that their IT will be there when they need it. Can you say as much about the IT for your business?
Let's find out by asking a few simple—but critical—questions:
"Is All of My Business' Data Protected, Backed Up and Secured?"
Are you absolutely, completely positive that your backup has all of your data in it?
This is something you want to determine as quickly as possible—after all, in the case of a disaster, it could be the difference between a quick and effective recovery, or a long and painful process (if not complete business failure). So, let me ask you this right now, as you are reading these words: are you 100% confident that all of your data is protected, backed up, secured and accessible to you via this backup?
It is important that you can answer in the affirmative, because you don't want to have to deal with the consequences otherwise.
Working with us will ensure that you can confirm your business' data is properly protected, backed up, and secured with multiple copies which may be available on-site as well as in the cloud. This will give your business the kind of data redundancy that you need to be confident in your business' future—and confirmed, as our system will encrypt and verify your backup as it's been created.
"Can I Count on My IT During Crunchtime?"
Do you feel like you can rely on your technology when you need it to meet a deadline?
You need to know that your IT will be available to you when you need it. Technology that falters and fails when you need it most isn't technology you should accept. Deadlines need to be met, but in order to do so, your team needs to be able to use their tools as expected and not deal with inopportune downtime (as though downtime is ever opportune).
By relying on our managed services and the remote monitoring and maintenance we provide as an integral part of your service agreement, you can be confident that your team will have unfettered access to your business' resources when they need it.
"If My Business Were Attacked, How Quickly Could I Get Back to Work?"
Are you confident that a cyberthreat could be mitigated quickly so that your team could get back to work?
Cyberthreats are, unfortunately, extremely prevalent in this day and age, so there will always be a non-zero chance of your business being targeted. This makes it necessary to have a strategy in place to, first and foremost, severely limit these attacks if not stopping them outright. Secondly, you need to have a plan to mitigate the damage that a successful attack could cause in the short and the long term.
There are a variety of safeguards and countermeasures that are involved in accomplishing these objectives. Firewalls, antivirus, and cyber security solutions can help keep out viruses and other security threats while employee training can take some of the teeth out of social engineering. The aforementioned cyber security and secure backup strategy can ensure you have a spare copy of your data ready to fall back on. All in all, it's a lot, so don't hesitate to reach out and find out how we can help you secure your business while ensuring its continuity through a cyberattack.
We can help you with each of the above strategies to ensure you can trust your business to the IT it relies on. Give us a call at (888) 548-9511 to learn more.
Comment for this post has been locked by admin.
Comments
No comments made yet. Be the first to submit a comment