AccessMSP Blog
Access IT Solutions has been serving the Florida area since 2008, providing IT Support such as technical helpdesk support, computer support and consulting to small and medium-sized businesses.
A Healthcare Facility's Guide to Cybersecurity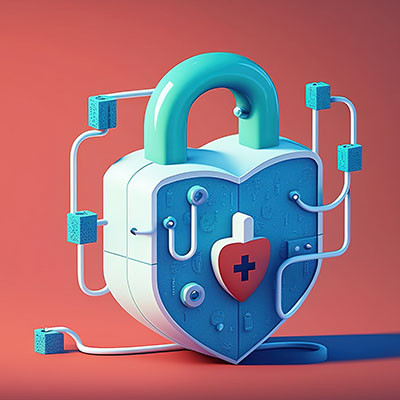 Healthcare services have been becoming more and more digitized over the last decade, and this has led to a massive outbreak in cyberthreats that particularly target healthcare service providers. Healthcare providers need to take increased measures to protect sensitive patient data, ensure they meet regulatory compliances, and maintain the integrity of their data. Let's explore cybersecurity best practices for healthcare facilities and talk about how this goes hand-in-hand with general IT services.
An Introduction to Cybersecurity
Cybersecurity is essentially the evolution of general IT security processes and best practices to adapt to an evolving threat landscape. Whereas legacy IT security was generally passive; for example, setting up antivirus to scan computers every night or establishing a firewall to prevent certain types of threats, cybersecurity is much more broad. It's the practice of protecting systems, networks, and data from digital attacks, theft, or damage. Cybersecurity threats come in many forms, including traditional malware, but modern attacks tend to seek out weaknesses that most modern healthcare facilities tend to have.
This could include aggressive threats like phishing attacks, social engineering, ransomware, denial-of-service attacks, data theft, and more. Healthcare providers need to implement robust cybersecurity measures to protect their systems and data, and that doesn't just include implementing security software. It also includes providing training and ensuring that cybersecurity is baked into everything the organization is doing digitally.
The Importance of Cybersecurity in Healthcare
What makes the healthcare industry a prime target for cybercriminals? The sensitive nature of the data that most healthcare providers hold has a high value for criminals. Medical records contain a near-complete collection of personal information, including names, addresses, social security numbers, contact information, and medical history. Criminals can buy and sell this data on the dark web, and use it for identity theft, insurance fraud, or worse.
When a healthcare facility suffers from a data breach, it can have severe consequences, leading to reputational damage, regulatory penalties, and lawsuits.
Cybersecurity Best Practices for Healthcare Facilities, Hospitals, Laboratories, and Other Medical Providers
First, Conduct a Risk Assessment
First things first, you need to fully understand where you are at. There can't be any guesswork or assumptions here either; it's almost guaranteed that any organization will have issues unless they are absolutely diligent and actively optimizing their cybersecurity. In other words, expect the assessment to come back with suggestions and improvements.
A risk assessment should identify vulnerabilities and assess your risk level, and help you prioritize your cybersecurity efforts. Some items may need to be fixed immediately, while others can be saved for down the road. Some items might be extremely quick policy changes, while others might involve an investment in software, hardware, or training.
It's really important for healthcare organizations, or literally any organization, to see cybersecurity as an opportunity to make your company better. Establishing strong cybersecurity practices is an expense. It will take time, it will cost money, and it isn't as simple as installing antivirus or flipping a switch. But that being said, it hardens your organization and prevents risk in the long run. Establishing cybersecurity best practices takes the most effort up front, and as the dust settles, it is typically much easier and cost effective to maintain in comparison.
We can provide a risk assessment for Treasure Coast healthcare organizations. To get started, call us at (888) 548-9511.
Develop Strong Password Policies
This is a pretty basic step, but it is critical. Absolutely nothing on your network or under your roof should be using a weak password. That includes your Wi-Fi routers, your terminals, your printers, doctor tablets and laptops, connected medical equipment, and literally everything else that someone might need to sign into. Online accounts, EMR systems, and other platforms that require a login need to be assessed to make sure they enforce strong passwords, and no password should be used in two different places.
When at all possible, two-factor authentication needs to be enforced for all of your users, and regular password changes need to be enforced.
Keep Every Device and System Up-to-Date
Hardware and software updates are provided by manufacturers and developers in order to fix issues and patch vulnerabilities. In other words, if a system isn't kept updated, it likely has weakened security. Healthcare providers must regularly update their systems, software, and firmware to ensure they are protected from known vulnerabilities.
Use Encryption and Access Controls
Encryption and access controls are important for protecting sensitive information from unauthorized access. Healthcare providers need to implement strong encryption protocols across all devices. This helps ensure that data is impossible to recover off of a stolen device, and any data transmitted can't be intercepted by an unknown attacker. Access control prevents unauthorized personnel from accessing devices or information they shouldn't have access to. This goes beyond the digital realm—access control can include physical security as well. Integrating door locks with either pin pads, badge scanners, biometrics, or other types of authentication devices with the rest of your security will help monitor your facilities and provide better insight when something goes wrong.
Implement (And Thoroughly Test) a Data Backup Plan
Data backups are critical for literally any organization. If you store information, it needs to be stored on (at minimum) two separate devices in two different locations to maintain redundancy. For healthcare organizations, data backups need to also be kept secure. Data needs to be encrypted. When data is transmitted offsite for storage, it needs to be encrypted before leaving your facility to prevent it from being intercepted. This is a pretty standard feature for modern business-grade backup and disaster recovery appliances, but if it isn't being done and tested, you are only putting yourself at risk.
Provide Regular Employee Cybersecurity Training
Your users are the biggest weak point when it comes to your cybersecurity, and the cybercriminals know this. Employee training is essential for creating a culture of cybersecurity awareness. Healthcare facilities must provide regular cybersecurity training to employees, including how to recognize and report suspicious activity, how to avoid phishing scams, how to use secure passwords, and how to file, transmit, and manage sensitive information.
Continue to Conduct Regular Security Assessments
While the biggest bane of modern cybersecurity practices is definitely the upfront effort, it is critical to continue to assess and review your network to ensure that you maintain a certain level of cybersecurity compliance to protect your organization. Healthcare organizations should conduct regular cybersecurity assessments, including penetration testing and vulnerability scanning in order to identify and address potential threats and harden any weaknesses.
If You Manage a Healthcare Facility in Florida, Access MSP is Here to Help
We specialize in IT services and cybersecurity for healthcare organizations, from hospitals to laboratories, small and large practices, and more. If your organization works with patient information, we're the perfect partner for you.
We make it especially easy for busy medical organizations. We can start with a cybersecurity assessment and help develop a plan to implement everything you need to protect your organization, your staff, and your clients and patients.
It's easy to get started—just give us a call at (888) 548-9511.
Comment for this post has been locked by admin.
Comments
No comments made yet. Be the first to submit a comment