IT and Cybersecurity for South and Central Florida Healthcare Providers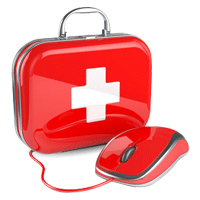 Strong IT Security is Critical for Medical and Healthcare Organizations
Medical offices, health clinics, therapy centers, dental practices, medical billing services, hospitals, laboratories, and other institutions in the medical field require much higher standards of IT compared to other businesses. Keeping patient data safe and secure is an absolute core requirement. Staff needs to be able to focus on providing care, not managing technology. That's why you need a professional IT consultant who understands the healthcare industry.
We Support IT for Healthcare, so You Can Support Your Patients
We understand that every minute counts in the healthcare industry. The health and comfort of your patients are on the line, and when technology fails, it can have staggering consequences. We can help by providing minute-by-minute technology monitoring, proactive maintenance, and technology solutions that streamline and automate the backend workload your staff has.
Combined with our incredible helpdesk, staffed with knowledgeable IT professionals who understand the stakes and compliance requirements of your practice, your staff will get the support they need, when they need it.
Technology that Drives Your Practice Forward
When it comes to healthcare IT, your typical IT consultant isn't going to have the experience or understanding needed by your practice.
We can help equip your facility with the best technology solutions available, including Electronic Health Record (EHR/EMR), practice management and medical billing systems that streamline your day-to-day workflows while keeping patient medical information safe and secure. We can help secure your email by adding HIPAA compliance without making it more complicated to communicate. We can help you meet and exceed compliance regulations. We can also help migrate you from older, legacy systems and transition you to more modern, easier to manage, and easier to secure solutions.
We Work With a Wide Variety of Healthcare Technology Products
CGM Aprima
CGM APRIMA offers an EHR designed to simplify your workflow, not hinder it. Among the fastest and most flexible EHRs available, it gives users technology that supports and enhances clinical care and allows doctors to focus on their patients.
CGM Plus
Plus's design is both intuitive and feature-rich, with everything you need to schedule, chart, and bill, as well as cutting-edge functions for patient tracking, physician and patient communication, code search and recommendation.
Medisoft
McKesson's Medisoft is the world's most proven practice management system. It's ICD-10-ready and gives you great billing, scheduling, and patient accounting features all in one product.
Medisoft Clinical
Medisoft Clinical is an CCHIT-certified solution for smaller physician practices, combining practice management capabilities with an electronic health record (EHR) system.
DentiMax
Designed specifically for dentists, DentiMax is easy-to-use but incredibly robust, offering dental practice management, digital imaging, and patient clinical charting in one application.
And So Much More
We can assist your practice and help build a technology roadmap that keeps your operations running smoothly, while protecting your patient information and keeping your facilities compliant.
To learn more, reach out to us today for a free consultation, or give us a call at (305) 671-3937.