AccessMSP Blog
Access IT Solutions has been serving the Florida area since 2008, providing IT Support such as technical helpdesk support, computer support and consulting to small and medium-sized businesses.
If You're Planning an Office Move, We're Here to Help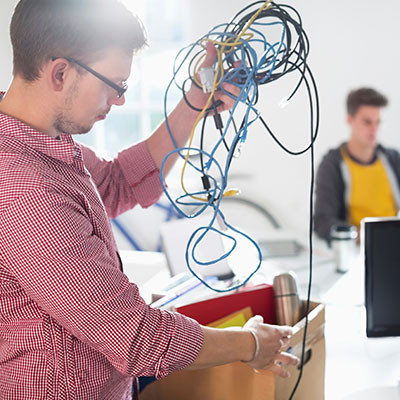 With so many employees working remotely for a lot of companies, many of these companies are downsizing their business locations as a means of limiting their investments and saving a bit of money. If this is something you're thinking about, we recommend that you commit some time to figuring out how technology could make this process easier.
Let's explore some of the different ways that technology could help you make the move to a smaller space as beneficial as possible to your business' processes.
Ensure Your New, Smaller Space is Set Up for Modern Conferencing Solutions
The biggest expense your business will have is the cost to house it. Office space remains at a premium, especially in larger cities in Miami, West Palm Beach, and Fort Lauderdale. With businesses needing to adapt to a remote workforce, many have realized how little office space they really need, and how many benefits technology can bring their organization.
The real beauty of modern business technology is how flexible it allows modern businesses to be, so if you're considering a more permanent move into a smaller office space, it can really prove to be a significant advantage. Today's options enable a business to create a fully adaptive space. Not only can a conference room host an in-person meeting, but if properly equipped, it can be turned into a hybrid meeting space where both in-person and remote employees could assemble and collaborate.
Video conferencing in particular can be a relatively simple prospect, as it really only requires:
A reliable wireless connection, and/or sufficient low-voltage cable infrastructure
A display to present remote participants
An adequate number of conveniently-placed power outlets
If you're able to equip your conference room with these things, you're halfway to conducting productive hybrid meetings. Of course, you also have the option to set up a hotdesking strategy—basically, you have workstations set up that any team member can log into and use when they come into the office. This option will require a properly-configured network, especially in regards to access privileges. As each user will need to have reliable access to their essential software, wherever they happen to be seated, you will need to ensure that each user can only access data relevant to their user level. In today's cyber and physical security environment, maintaining access control is critical to your business' security.
Adopting a Fully-Remote or Hybrid Workforce Can Be a Huge Money Saver
Thanks to the global pandemic, this is likely something that a lot of Florida business owners are already thinking about. Remote work has gone from being a rare perk to something that some of the best potential employees are coming to expect from a company.
While not every job or role can be fully remote, many businesses can effectively reduce the office space to practically (or literally) zero. There are still challenges to face, much like having an office, but many of them are pretty similar.
You Still Need to Secure the Environment Your Remote Workers Use
A remote workforce can add some complexity to your IT, simply because you can't control all of the home networks and devices that don't belong to you. There is a simple, elegant solution for this though. If you enforce your users to do all of their work through a company-issued VPN, they will essentially be on your network utilizing your security policies. On top of that, they will have access to all of the applications and data that they need to do their jobs as if they were in the office.
We've been helping businesses establish secure remote access for workers (or auxiliary office locations) long before the pandemic sent everybody home, but since then we've been focused on making it as easy and secure as possible for businesses that are adopting work-from-home or hybrid offices. We can help evaluate your current needs and come up with a plan for your staff that ensures that your data is still secure and you are meeting your compliance regulations.
We're Here to Help You Before, During, and After the Move
Whether or not you have an internal IT department, we can assist you in maintaining your critical technology… In fact, if you do have an internal team, we'll take some of the burden off of their shoulders so that they can focus on the rest of your staff's needs. Reach out to us today to learn more about how we can help you with your IT, whether or not a move is in the cards.
Call (305) 671-3937 today.
Comment for this post has been locked by admin.
Comments
No comments made yet. Be the first to submit a comment