AccessMSP Blog
Access IT Solutions has been serving the Florida area since 2008, providing IT Support such as technical helpdesk support, computer support and consulting to small and medium-sized businesses.
How to Choose the Best Fort Lauderdale Computer Support Company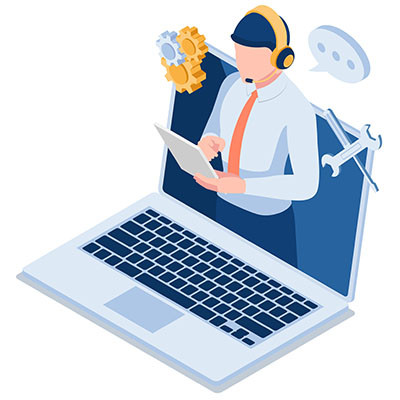 If your organization requires reliable computers, then you need access to a professional who can provide consistent, technical support. There is a big difference between a local computer repair person and a professional who understands the finer details of a business network—compare it to asking the barista at your favorite coffee shop to cater your wedding.
Why Broward County Businesses Need Professional IT Support
If you've been a business owner for a while, you likely don't need anyone to tell you why it's important to have a professional IT consultant on speed dial. You've probably dealt with enough computer headaches over the years that you already know that you don't have the time or patience to handle IT on your own, and you can't always rely on calling the manufacturer to get the help you need. On top of that, if your business network isn't set up properly, it's going to be insecure, unstable, and unreliable. It takes someone who both understands your business AND understands business technology to get the job done right.
Your network is a lot more complicated than a handful of computers and a router. Your business should be actively pushing domain policies from its server, managing a centralized cybersecurity solution that covers all of your endpoints. You'll have your shared printers, servers, wireless network, guest network, security cameras, cloud hosting, dozens of mobile devices, and the list goes on.
IT can get very complex, very quickly.
Once your organization has grown past only needing one or two PCs, you need more than a typical computer repair person to support your business. Eventually, you are going to need assistance that is beyond that person's scope of knowledge and expertise. Computer repair and managed IT services are two totally different skill sets.
What Makes Managed IT Different Than Typical Computer Support
At AccessMSP, we're what you would call a managed services provider (MSP). That means we provide proactive, managed IT services as opposed to reactive computer repair services. We don't work with residential users, we're not the place to go if you need a home computer or you are a one-person business just starting up. There are plenty of great professionals in and around Broward County who can help with those services, and their skill sets completely match what you would need.
However, once your organization starts to expand into a full-time business, and you start adding employees and phone lines and need everyone to have access to shared folders, documents, and applications, that's where you will need to start considering a different type of IT person.
To classify what we do, however, is tough to do in a small number of words. Yes, we fix computer problems on occasion, but our clients rarely have computer problems that cause any significant amount of downtime.
There are a few reasons why this is:
1. We design your entire network from the ground up to be secure and fit your specific needs. You can't just follow a guide online to set up a business network. Every business is going to have specific needs and protocols that IT needs to be able to wrap around. Otherwise, your entire organization would be forced to work around the technology, and that's just not effective. Instead, your IT needs to complement your business processes while still keeping your information secure.
2. We proactively monitor and maintain all of your technology 24 hours a day. Your staff doesn't have the time to manage your technology. This includes running important security updates, patching software, and making sure your antivirus definitions are up to date. We have invested in enterprise-grade tools that allow us to remotely monitor every computer on your network and use it to solve issues before they affect your bottom line.
3. We offer a level of service you'd expect if you were a Fortune 500 company. We've invested in high-quality industry-recognized management solutions, documentation software, remote access tools, security suites, and countless hours of training. Hiring AccessMSP to be your outsourced IT department is similar to hiring the top IT candidates in Florida when it comes to the skills and capabilities we give our staff. The difference is we can provide these services for dozens and dozens of local businesses and split the costs of all of the investment that went into it. In short, you get the level of service a massive enterprise can afford, at a cost that a smaller business can budget.
4. We help your business establish an IT budget and roadmap that includes upgrading hardware before it starts costing you money. Unexpected expenses can really hold a business back. We establish upgrade plans and server migrations based on trends and best practices. We know that the average workstation can usually last 4-6 years, and the average server will usually last a little longer. We also know that you can usually get a little extra life out of your hardware when it is properly maintained. We combine that information together, as well as always watching for opportunities to consolidate and save money through virtualization, cloud computing, automation, and other means. The end result is a budget that feels much less like an expense, and more like a path for growth.
5. Everything we do is wrapped around cybersecurity. As a business owner, you probably aren't thinking about the online threats that put your organization at risk on a daily basis. When you work with us, we think about the security of your business nonstop. We work with a lot of industries that demand the highest level of cybersecurity protection, and need to comply with complex, extremely strict compliance regulations, including the healthcare industry. That being said, we strongly feel that every single organization of any size needs to maintain a certain level of IT security.
All of this basically sets us apart from other computer support businesses in the area, and classifies AccessMSP as a managed IT services provider.
Do You Find Value in Your Technology and Data?
This is the big dividing line between whether or not your company just needs a traditional computer repair company, or if you need managed IT services. If you could continue to operate without access to your computers for a few days and not really feel any repercussions, then you probably just need someone to come in and fix problems when they occur. If you can calculate actual loss of time and productivity from a network outage or computer malfunction, then a managed IT services provider is a much better option because it centers around the idea that computer issues tap into your profits and thus should be prevented.
We're Fort Lauderdale's Most Trusted IT Services Company
Learn why some of the sharpest business owners in town rely on us to keep their technology running. We don't believe in pushy sales tactics or aggressive cold-calling—but we'd love to talk to you and discuss how we can help your business take its IT to the next level. Give us a call today at (888) 548-9511.
Comments
No comments made yet. Be the first to submit a comment