AccessMSP Blog
Access IT Solutions has been serving the Florida area since 2008, providing IT Support such as technical helpdesk support, computer support and consulting to small and medium-sized businesses.
After Hurricane Ian, We Need to Talk About Backup and Disaster Recovery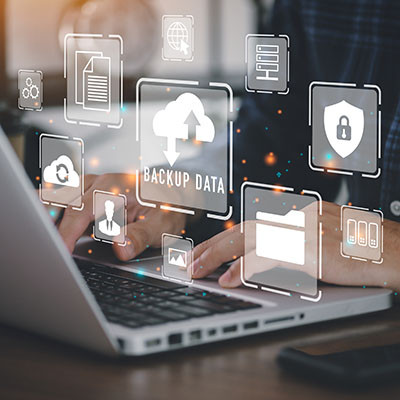 I know I don't need to tell you that Hurricane Ian caused a lot of damage to the Sunshine State. Myself and my entire team here at AccessMSP want to wish everyone the best, and truly hope that everyone impacted by the hurricane is safe. We know it's looking very rough for a lot of large communities, and we know that a lot of businesses have been impacted in catastrophic ways. For those that were lucky enough to not cross paths with this storm, we need to talk about business continuity.
This always feels difficult to talk about, because in a storm like this, homes and infrastructure are at stake. Lives are at stake. Obviously nothing is going to be more important than the safety and well being of family, friends, colleagues, and loved ones. A business? Sure, business is important, but we are comparing apples and oranges at this point.
But your business is important. You employ people. You provide a paycheck. You indirectly put meals on the table.
You have customers that you provide critical services for. A lot of our clients are in the healthcare industry too, which is extremely important for obvious reasons. When disaster strikes, communities feel like they get smaller. Things get more personal. It's disheartening when a business needs to file for bankruptcy and close its doors when the cause was preventable.
Data Loss is Not Something to Be Taken Lightly
There are numerous reasons that data can be lost—human error, equipment malfunction, viruses and other malware all come to mind—but perhaps most prominent in our minds right now is the impact that severe weather events can have.
To really sum up the problem, data loss is expensive, both in terms of your business' finances and its reputation. When you lose your data (as you may have discovered the hard way) there is a high likelihood that you will find yourself unable to properly carry out many of your business processes. In addition to this, there's also the very real possibility that your data loss will lead to a loss of trust amongst your clientele, and ultimately result in a loss of business for you.
This all adds up to you losing income, and at a time when you'll likely need it more than ever.
All of this means that a proper data backup is something that needs to be prioritized by any business, but particularly those in the area. Let's discuss what it is that makes a data backup "proper," and precisely how it can benefit your business after a storm.
First of All, Data Backup Needs to Be Automatic
Don't rely on consumer-strength backup solutions that aren't designed to be automated and aren't able to handle your business. Home backup solutions are great, and will help you keep your family photos and personal documents stored in a separate device (or even the cloud) if you lose your home PC. That's all well and good, but a business-class backup solution is much different. It needs to back up your server. It needs to back up your databases. It needs to be able to backup files that are open, and handle versioning. It needs to encrypt your data. Most importantly, it needs to take your archived data and store it offsite.
Using the Cloud Helps Protect Data from Effectively Any Disaster
There are numerous reasons that a cloud solution should be incorporated into your backup and disaster recovery strategy. Depending on the service that you utilize, you could very well access it remotely to put it to use, or if need be, have a temporary server setup to whatever temporary workspace you're utilizing in the interim.
Basically, a good backup solution will be flexible enough to fit your needs, whatever those needs may be, whenever you find yourself and your business in a tough spot.
With a Strong Backup and Disaster Recovery Solution, Recovery is Always an Option
Let's say that hypothetically, your business suffered a catastrophic event that left the infrastructure underwater, or at the very least, unable to be occupied safely. If some of your staff are able to work remotely, a proper backup solution should be able to handle some level of temporary mitigation such as servers and workstations virtualization.
For instance, our backup solution takes a backup of your data as often as every 15 or 30 minutes. It encrypts that data and stores it offsite in multiple secure data centers. If your business were to suffer from a catastrophic infrastructure failure where your servers are destroyed, and even your backup device is destroyed, we can spin up your server infrastructure temporarily in the cloud. It's not quite as effective as having the hardware on site, but it will let your staff remote in, access data, access your applications, and keep things going as soon as it's safe to do so.
Remember, Communication With All Involved is Key
Regardless of the reason that you need to lean on your backup, it is critical that you keep both your employees and your customers in the loop—particularly in a disaster event of the scale that we just saw. Your employees need to know what the plan is for business operations, and your clients need to know that you are still there for them.
Speaking of communication, don't hesitate to give us a call if you need assistance in getting your business back on track and in operation, or even if you want to avoid any more close calls in the future. We're more than happy to help you evaluate and plan around your needs, and we're just a call to (888) 548-9511 away.
Either way, please be safe.
Comment for this post has been locked by admin.
Comments
No comments made yet. Be the first to submit a comment